graphic design color trends for 2019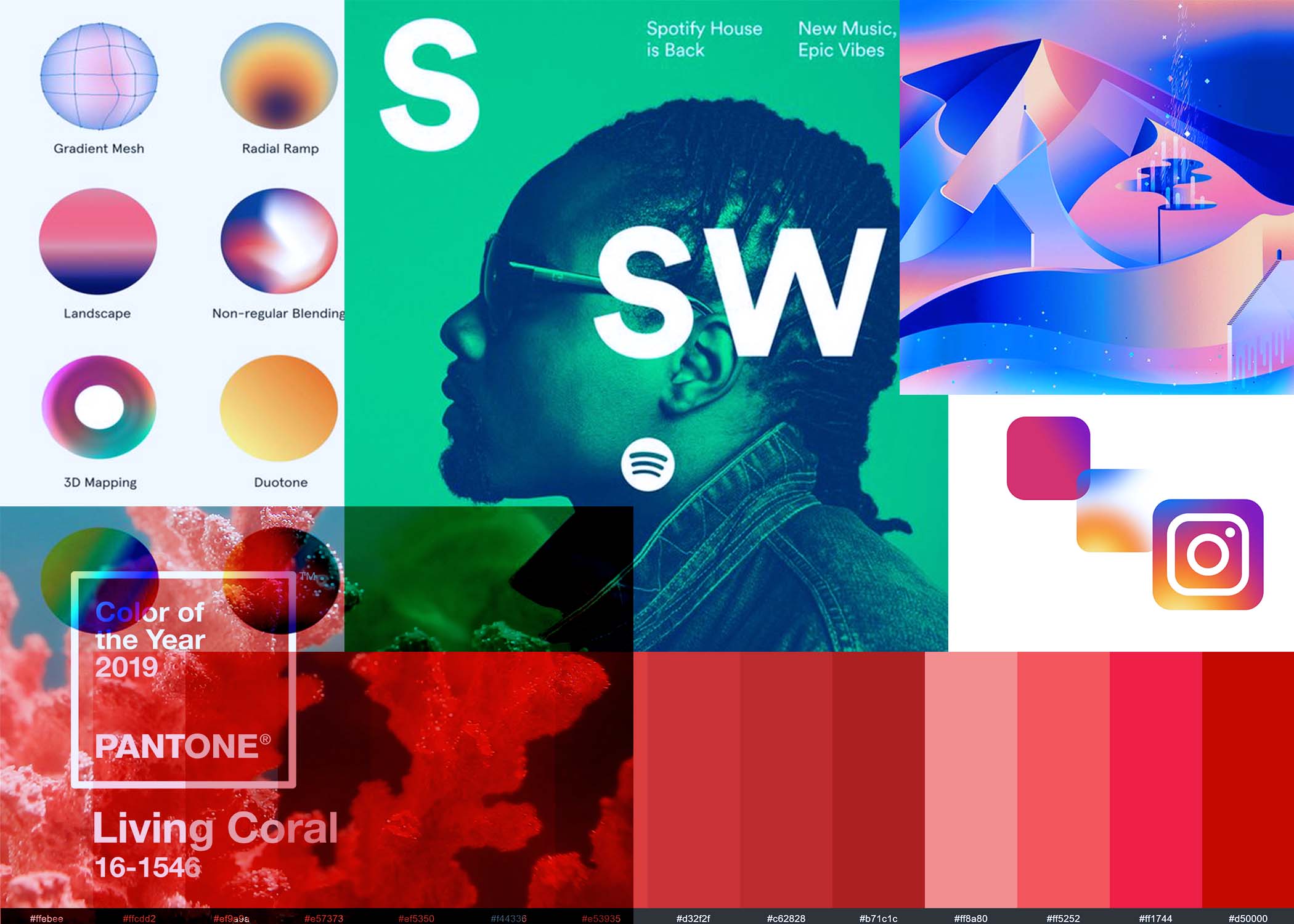 The word "colorful" is one way to sum up the closing year, and I don't just mean in an art sense. However, designers are always looking to use the outside world as inspiration, and the recent rise of bold, vibrant color schemes is no exception. Graphic design trends in 2019 like gradients and duotones have begun to redefine illustrations and branding, while shades of red are being utilized to captivate audience attention.
irregular gradients
As flat design continues to evolve, gradients have made a comeback as a way to add color enhancement and depth. With the rise of HTML5 allowing designers to code their own gradients, they have become more universally recognized as colors in their own right. You may be familiar with traditional linear or radial gradients, but recently, artists have been experimenting with different blending techniques to produce unique effects, including gradient meshes and radial ramps. These styles distort the blend of colors more abstractly than a radial gradient. Techniques like a bending or retro style produce an opposite effect by using a linear template to create a harsh gradient using various colors and tones.
Gradients have become distinguished for their ability to add add a sense of weight and movement by a gradual color transition from light to dark, but recently, this technique has been amplified by using up to five stops, or colors, in a single gradient. A gradual progression of colors, especially when they are complementary, can create a compelling focal point in illustrations. Using a wider range and quantity of shades adds more dimension, while allowing your design to have more variety in tone. The image below on the right depicts a scene that uses traditional two stop gradients, coupled with radial gradients using four or five stops to add shadows while blending complementary warm and cool tones. Considering their functionality and ability to add a vivid, futuristic mood to any design, we can expect to see even more gradient illustration in 2019.
In the past few years, brands have begun to utilize these multi-stop gradients as a way to modernize their digital interface. We have seen gradients more frequently in the advertising of well-known brands including Apple's iPhone X campaign, and even the infamous Instagram logo. Using such vivid gradients requires an even bolder typography overlay, shifting the design paradigm toward colorful, eye-catching visuals that will capture the audience's attention long enough to instill a message.
If you are looking to create your own gradients to use in digital design, click here for a tutorial on how to create irregular gradients in Photoshop.
off-red
Setting the pace as always, Pantone has named 'Living Coral' as the 2019 Color of the Year, yet we have already begun to see a recent emergence of off-red shades in digital design. Tints of red create movement, as well as evoking feelings of energy, electricity, and warmth. It conveys a sense of importance and often signals to where the audience should direct their attention. Red is a stand-out color among neutrals, and its many shades can be used to compliment almost any other color, making it extremely versatile in digital design. The two illustrations below depict a mostly neutral color palette with shades of red used to add vibrant contrast:
Emotionally intense and visually stimulating, contemporary brands have begun to capitalize off such an attention-demanding shade by strategically using red tones in their call to action. As web design progresses and we continue to become inundated with advertisements, creating a visually compelling ad is essential. This ad for Spotify Premium found on another blog boasts a tomato-colored background among an otherwise neutral page, which is hard to ignore. The Wordpress ad below it uses a complementary color scheme contrasting the blue background with a bright red button urging the viewer to 'SUBSCRIBE NOW!'
Since shades of red are so prominent, it is important to use this color deliberately in your designs. It can be harsh and overwhelming if used in a more subtle design, but just the right amount of red will be able to draw attention to specific elements of your artwork or website. Don't be afraid to experiment with other tints and shades one that fits the mood of your work. Find more red-colored inspiration in the swatches below:
Pantone's 2019 Color of the Year is "an animating and life-affirming coral hue with a golden undertone that energizes and enlivens with a softer edge." Its red undertones symbolize optimism and joy, setting a more positive tone for design in the coming year. Living Coral is a unique shade that tends to mesmerize the eye, especially when used as a contrast in darker color palettes. Below are various coral-centered palettes using Pantone shades:
vibrant duotones
This coming year, we can expect digital design to take on a bold, vibrant color scheme, especially with the rise of duo-toning. What originally begun as a print trend has become a popular graphic technique, as it is a simple, yet visually interesting way to add emphasis. Duotones can be made using a variety of color schemes - complementary colors to add contrast, shades of the same color, or even one black and one tint. This effect works best with high-quality images, using the split colors to exaggerate contrast and highlight details.
A popular use for duotones in contemporary design is in portraiture, as the split color channels draw your eye to the contrast in the image, rather than individual colors. When a visual has a a close-up focal point, the audience is drawn to the details. However, adding a duotone overlay almost reverses this phenomenon, by forcing your eye to visualize the image as a whole. For this reason, they are used especially in compelling portraiture or landscapes where the creative emphasis is on the design, rather than detailed photography. The posters below utilize duotones to slightly mute the model's face, and draw attention to the overall message of the ad:
Duotone backgrounds have also become popular in web design for a reason - their readability and consistency. Adding a duotone overlay flattens background color variations, creating a dynamic canvas for bold typography and brand emphasis. It is also a great way for brands to step outside of their comfort zone and re-modernize using bright colors that would not blend together in a typical design. This French-based band page utilizes an eye-catching shade of red in a duotone overlay adding a pop of color to the artist portraits:
Unsurprisingly, another trend we will likely see more of in 2019 is duotone gradients. This technique blends two methods of coloration together for a vivid, retro effect. You may recognize the image below as the digital interface of Spotify - a brand which has utilized both gradient and duotone overlay techniques to re-modernize their user experience. This technique is simple and versatile, while manipulating color in a stimulating way. If you want to learn how to create duotone gradients in your own designs, click here.
We can expect designs to become even more vibrant and colorful in the upcoming year, as artists find new ways to add their own spin on current trends. Don't be afraid to experiment with enigmatic color palettes and disruptive combinations, but instead, push the boundaries you've seen to create unique color blends and distortions.
Flash series two coming tomorrow…… hometown vibes….. back 2 where it all began….
- GOODAESTHETIC